Biological Services Laboratory
About
The Biological Services Laboratory is a core facility supporting comprehensive services customized to meet the specific needs of chemistry research.
This facility is available for students and researchers within the department, as well as for other academic and industrial institutions.
Notice to Researchers
GENERAL RULES FOR WORKING IN THE BIOLOGICAL SERVICES LABORATORY
Prior to work, all users have to complete instrument-specific, chemical safety and biosafety training — no exceptions. Please call or e-mail to arrange a time with us for training.
Consultations, usage of the laboratory space/benches, equipment and technician help is available on a "first come/first serve" basis or by reservation of equipment in advance.
Lab users are responsible for removing their work materials from workstations as tasks are completed:
Biosafety cabinets must be decontaminated and free of work materials;
Bench surfaces must be left clear of glassware, garbage and spills;
Scales and pH meter must be clean and in proper working condition;
Waste must be decontaminated and disposed
Room booking calendar for Bio Services: https://wapps.chem.ubc.ca/biobooking/week.php?area=1&room=1&year=2020&month=06&day=05
Lab users should wear a lab coat and a mask at all times in the lab. When not in use, lab coats must be isolated from each other by placing them in provided small autoclavable bags; please remember to sign the bag. Disinfect your lab coat regularly by autoclaving.
Contact:
Elena Polishchuk, Ph.D.
Office: (604) 822-2053
Lab: (604) 822-4768
Email:
Our Members:
Dr. Elena Polishchuk, Laboratory Director
Tel: (604) 822-2053
Email:
Jessie (Jie) Chen, Research Assistant
Tel: (604) 822-4768
Email:
Location:
Rooms A410-A428 (even numbers)
6221 University Blvd
University of British Columbia
Vancouver, BC Canada
Instruments
Biological Safety Cabinets
The BioChemGARD is a Class II, Type B2 Biological Safety Cabinet was engineered specifically for laboratories that need containment and removal of vapors, mists and particulates.
We use it for cell-based assays of compounds with unknown cytotoxic and antibiotic activities.
Nuare Class II Type A/B3 biosafety cabinets (4)
Labconco Class II Delta Series biosafety cabinet in room A418 is designated for work with mammalian cell cultures.
iCycler iQ™ Multi-Color Real Time PCR Detection System (BIO-RAD)
iCycler iQ™ Real-Time Detection System with iQ™ 5 Optical System Software provides amplification and real-time detection of PCR products by including in the reaction a wide range of fluorescent chemistry, such as DNA-binding dyes and fluorescently labeled sequence-specific primers and probes. Real-time analysis of PCR enables truly quantitative analysis of template concentration. The 350,000 pixel array on the CCD detector allows for simultaneous image collection of all 96 wells every second.
This instrument is also able to conduct a multiplex PCR (simultaneously quantitate two or more genes).
The second instrument in this group is MiniOpticon real-time PCR detection system with CFX Manager™ software (Bio-Rad). The MiniOpticon system uses two channels for fluorescence detection: the first one will detect dyes in emission spectra in the 523-543 nm range, such as SYBR Green and FAM, the second is optimized for dyes with emission spectra of 540-700 nm.
The T100™ Thermal cycler (Bio-Rad) is available for conventional PCR. The instrument has a 96-well block and can run sample volumes of 1-100µl.
BIOMEK® FX (Beckman Coulter, Inc.)
Laboratory Automation System with Cytomat and DTX880 Plate Reader
The system is installed in a Class II Biosafety Enclosure.
The Biomek FX provides following applications:
primary and secondary high-throughput screening of compound libraries
hit picking
molecular biology:

nucleic acid preparation 
plasmid purification
high-throughput DNA template preparation prior to automated sequencing from column separations
PCR reaction set-up

cell-based assays
ADME/Toxicology
96- and 384-well plate replication, incubation, plate washing, serial dilution
The DTX880 multimode detector is capable of performing absorbance, luminescence, and fluorescence intensity measurements on samples in 6-384 plates;
The Cytomat automated storage system for cell and tissue cultures is integrated in this robotic station and allows the automated, selective access to the plates with device-integral Plate Shuffle System .
Elx405 magnetic Bead Microplate Washer is also integrated in the Biomek FX automated system.
Pilot-size VirTis Vitual 50 L Freeze Dryer. The system has 10 shelves with inlet temperature range from -70o C to + 65oC and hydraulic ram for stoppering vials under vacuum. It has a high capacity 50 L coil condenser.  User will be able to back fill the vials with inert gas prior to stoppering.
Applications:
solvent removal
preservation of bacteria or other biologicals
stabilization of bulk chemicals
protein preservation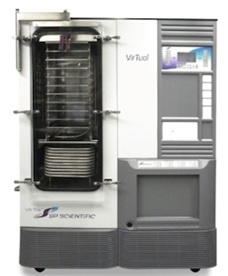 Flexi-DryTM MP Manifold freeze dryer.
Performance:  3 litres per 24 hrs at maximum low condenser temperature –85ºC. This freeze dryer has a corrosion resistant titanium condensor and a 16 port manifold.
Sorvall Lynx 6000 superspeed refrigerated centrifuge with a library of biocontaintment rotors:
6 x 100 ml,  max speed 23,500 rpm  (62,976 x g)
4 x 1000 ml, max speed 10,500 rpm  (20584 x g)
8 x 50 ml, max speed  20,000rpm  (47,850 x g)
6 x 250 ml,  max speed 14,000 rpm  (30,240 x g)
14 x 50 ml, max speed 14,000 rpm (33,746 x g)
12 x 50 ml,  max speed  20,000 rpm   (51,428 x g)
There are 2 Sorvall RC-5B Plus  Superspeed refrigerated centrifuges.
Maximum speed ( with SA-300 rotor) is 25,000 rpm (~70,000 x g). Temperature range: from 0°C to 40°C in  1°C increments.
Library of Rotors:
SLA-1500 SUPER-LITE Aluminum Rotor (6-Place, 250 ml, maximum speed 15,000 rpm)
SLC-4000 SUPER-LITE Composite Rotor (4-Place, 1000ml), maximum speed 9,000 rpm
SA-300 Aluminum Rotor (6-Place, 50 ml)
A wide range of adapters and reduction sleeves for all common tube types.
Beckman Preparative Ultracentrifuge (currently located in D240):
Provides high-velocity centrifugation with speed up to 80,000 rpm and run temperatures from 0°C to 45°C for separation of submicroscopic particles according to their densities, clarification of suspensions containing particles, isolation of cell organelles (ribosomes, mitochondria), proteins, and viruses.
AccuSpin TM Micro tabletop microcentrifuge for samples up to 2 ml. Maximum speed 16,000 rpm.
IEC HN-SII tabletop centrifuge for microplates.
DYNAC - everyone's favorite. We like to use it for cell suspensions and for flammable samples. Maximum speed 1790 rpm.
Eppendorf 5810R refrigerated centrifuge with the following  rotors:
swing-bucket rotor S-4-104 with max. speed 3,214 x g (3900 rpm), capable of spinning a load of 4x750 mL bottles
fixed-angle rotor with 48 steel sleeves for 15 mL tubes, max. speed 5,050 x g (5,500 rpm)
Rotor for safe centrifugation of hazardous samples, 6x50 m:, max. speed 20,130 x g (12,100 rpm), made from anodized aluminum for high chemical resistance
The Thermo Espresso centrifuge compatible with 0.2 mL to 2 mL microtubes, max. speed 14,500 x g (14,600 rpm)
Fisher Mini Centrifuge, 1.5/2.0 mL microtubes, max. speed 2,000 x g (6,600 rpm)
INNOVA-44 and -44R
Two floor model temperature-controlled non-refrigerated shakers
One floor model temperature-controlled refrigerated shaker
All of the above have digital operating systems and combination platform and flask clamps for 50ml, 150ml, 250ml, 500ml, 1L, 2L, 4L , as well as test tube rack holders.
Speed: from 25 to 400 rpm
Temperature range and accuracy: 20°C below ambient to 80° C; +/-0.1°C
Orbit diameter: 1" or 2"
Load capacity: 30 kg
Cary 100 UV/VIS spectrophotometer
Cary 100 UV/VIS spectrophotometer has a working range past 3.5 absorbance units that eliminates sample dilution; variable slit widths for optimum control over spectral resolution; phase-locked wavelength drive that prevents peak shifts and peak suppression at high scan speeds.
Microplate Reader Multi-Mode FilterMax F5
Absorbance detection in the visible range (230 nm to 650 nm) and UV
Fluorescence Intensity top read & bottom read
Luminescence
Fluorescence Polarization
Time-Resolved Fluorescence (TRF)
Scan measurement types: endpoint, kinetic, multiple wavelength, linear scan and area scan
Linear and Orbital shaking
Temperature Control
SpectraMax QuickDrop UV-VIS Spectrophotometer (190-1100nm)
For micro-volume absorbance measurement of DNA, RNA, oligos, and proteins. The built-in sample port allows work with volumes as small as 0.5 µL, preserving precious samples, while the cuvette port allows expansion to include larger volume samples. The instrument is suitable for applications in life sciences, clinical, pharmaceutical, cosmetics, food and drink, agricultural, industrial, environmental, toxicology, water treatment.
Inverted Fluorescence Microscope
Olympus IX70 Inverted Fluorescence Microscope has a Olympus DP80 dual CCD 12.7 megapixel colour camera and 1.4 megapixel cooled monochrome camera. This multi-function camera with dual chips is optimal for imaging of brightfield and fluorescent samples. Olympus CellSens Dimensions software is available for imaging processing. The unit is fitted with phase-contrast optics and a turret that simultaneously holds up to 4 filter cubes for quick changeover to different excitation/emission wavelengths. The microscope accommodates a condenser with an ultralong working distance to enable observing the contents of large tissue culture vessels.
The Countess® II FL Automated Cell Counter
The Countess® II FL Automated Cell Counter
is a cell counting instrument equipped with optics  and image analysis software for rapid assessment of cells in suspension. It has brightfield and two optional fluorescence channels to count cells, monitor fluorescent protein expression, and measure cell viability.
Milli-Q Synthesis Water Purification System from Millipore supplies nano quality ultra-pure water for molecular biology techniques, such as PCR, 2-D electrophoresis and also for defined cell culture media. Pyrogard 5000 cartridge removes nucleases, producing RNAse-free water without the need for DEPC treatment.
Specifications:
Resistivity:  18.2 Megohm.cm at 25ºC;
TOC (Total Organic Carbon) :  1-5 ppb;
Pyrogen level (Eu/mL): less than 0.001;
Bacteria (cfu/mL): less than 1;
Particulates >0.22µm (P/ml):  <1;
Flow Rate (L/min): 1.0
We use MVE 4000 cryogenic system for preservation of microorganisms and cell cultures in liquid nitrogen vapor.
Steris and Yamato Autoclaves
BioRad GelDoc camera and image processing software for agarose and polyacrylamide gels
homogenizer
mini-shaker
Olympus microscope
water bath
peristaltic pump
gel electrophoresis chambers
MiniCycler for PCR
CO2 incubator
dry bath
Services
Custom assay design & protocol development

Development of primary cell cultures

Mammalian, insect, plant, fungal & bacterial cell cultures

Cell-based assays

Quantification of gene expression by RT PCR in prokaryotic/ eukaryotic cells

Quantification of gene copies in environmental samples by rt-PCR

DNA/RNA quantification by Pico Green/Ribo Green assay

High-throughput screening

Identification of bacteria and fungi by 16S, 18S, 25S rDNA analysis

Preparation of amplifiable DNA from samples contaminated with heavy metals

Immunocytochemistry

Gene cloning

Enzymatic assays

Electrophoresis

Antibiotic assays:

Minimum Inhinitory Concentration (MIC)

Disk Diffusion Method

Dilution Method

Quantitative antimicrobial test for textiles and solid materials.

Microscopy & image analysis

Cryopreservation and cell banking services

Custom lyophilization (freeze drying) services of small and bulk samples