Profile
Research and Teaching Interests
My research interests bridge the areas of organometallic and organic chemistry where we prepare discrete early transition metal and lanthanide complexes for use in the atom-economic, catalytic synthesis of amines. In particular, we are interested in new approaches for the synthesis of chiral ligands for early transition metal and lanthanide complexation suitable for enantioselective transformations.
Our group has developed specialized expertise in the exploitation of easily prepared and modular amidate ligand sets. Upon complexation, the unique electronic characteristics of these ligands promote the formation of very electrophilic metal centers that display promising reactivity in both C-N (hydroamination), C-C (the direct alkylation of amines) bond formation and the ring-opening polymerization of lactones.
There are three general areas of catalysis research:
1) New N,O Chelated Organometallic Complexes for
Group 4 and Lanthanide Mediated Hydroamination Catalysis
2) New N,O Chelated Organometallic Complexes for the direct alkylation of amines (the hydroaminoalkylation reaction).
2) New N,O Chelated Organometallic Complexes for the catalytic synthesis of biodegradable polymers via ring-opening polymerization of lactones.
The fundamental research of the organometallic chemistry of these new complexes provides the foundation for the program. The motivation is the application of these complexes toward small molecule organic chemistry, in which elucidation of mechanistic detail is a key focus. Researchers involved in this work will become trained in a wide range of synthetic skills. The organometallic portions of the projects will demand development of air-sensitive handling techniques while the applications portion will build organic chemistry laboratory skills. The focus on enantioselective methodology will ensure familiarity with chiral techniques (e.g. determination of optical purity, chiral resolutions).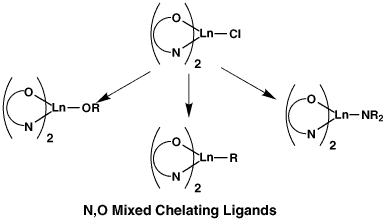 *Photo credit: Janis Franklin/UBC Media Group, UBC Faculty of Science
The Schafer group carries out research at the interface of organometallic and organic chemistry. Our guiding objectives include the development of new catalytic methods for carbon-nitrogen and carbon-carbon bond forming reactions for potential application in the fine chemical, petrochemical, pharmaceutical and agrochemical industries. We focus on developing a new family of N,O-chelated complexes to prepare, amines, functionalized small molecules and heterocycles, amine containing and biodegradable polymers. The development of these new catalytic systems builds toward the minimization of waste, and the maximization of energy efficiency to result in sustainable methods for chemical transformations. Notably, the metals used for catalyst development are of low toxicity and are targeting Green Chemistry solutions to synthetic challenges. This on-going work is pursued using a student-focused approach which includes group meetings, one-on-one meetings, supplementary training to push toward career objectives and options for international and industrial internships.
See the Schafer Group website for recent research: https://schafer.chem.ubc.ca/.
Curriculum Vitae
B.Sc. University of Guelph (1993); Ph.D. University of Victoria (D.J. Berg, 1999); NSERC Postdoctoral Fellowship University of California - Berkeley (T.D. Tilley, 1999-2001); NSERC University Faculty Award (2001); Undergraduate Teaching Award (2003); Boehringer Ingelheim Young Investigator Award for Organic Synthesis (2004); A.P. Sloan Fellow (2007); Humboldt Research Fellow (2010); Dean's Distinguished Scholar (2010); UBC Sustainability Fellowship (2011); Killam Award for Excellence in Mentoring (2013); Canada Research Chair in Catalyst Development [Tier 2] (2011 – 2016)
Publications
2021
2020
2019
2018
2017
2016
2015
2014
2013
2012
2011
2010
2009
2008
2007
2006
2005
2004
2003