Profile
Research and Teaching Interests
Orbital imaging by multichannel electron momentum (ie. (e,2e)) spectroscopy. The ionization, excitation and fragmentation of molecules using techniques of electron energy loss spectroscopy and coincidence counting, and also synchrotron radiation studies of photoionization. Current studies are in the following areas:
(a) Electron momentum spectroscopy (EMS) is used to obtain electron densities (psi(p))2 f or individual atomic and molecular orbitals. This provides orbital imaging and a direct experimental evaluation of molecular wave functions. The method provides a sensitive probe of molecular structure, chemical bonding and reactivity in the chemically important outer spatial regions of the electron distribution. Recent applications are to molecules of biochemical and biomedical interest such as aminoacids and heterocyclic systems. Comparisons are made with SCF, CI and DFT calculations.
New applications are in progress to study larger biochemicals, transition metal complexes, chemically reactive species (excited atoms, metastables, ions, free radicals, etc.) as well as condensed matter (solids, specially prepared surfaces, adsorbed gases and aligned molecules) using reflection geometry (e, 2e) spectroscopy under UHV conditions. Results are expected to find application in wave function evaluation and design, testing and developmentof new quantum mechanical theoretical methods such as DFT, computer aided mo lecular design and drug screening, molecular recognition, momentum space chemistry, catalysis, the design of new materials, nanostructures, time-correlated position sensitive imaging and the increase of fundamental knowledge relating chemical, biochemical and physical properties to details of electron motion.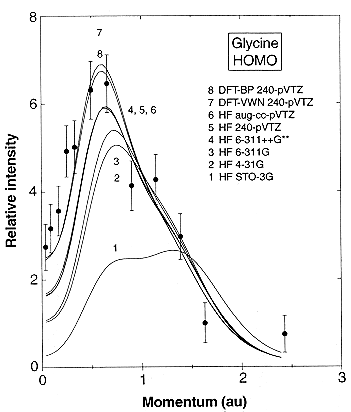 We have also used EMS measurements of orbital electron momentum probability distributions to evaluate the concept of hybridization and the different localized and delocalized orbital models of molecular electronic structure as reported in the Canadian Journal of Chemistry, 2017, 95(12): 1314-1322, https://doi.org/10.1139/cjc-2017-0450 , as described below:
An investigation of hybridization and the orbital models of molecular electronic structure for CH4, NH3, and H2O.
C.E. Brion,a Saul Wolfe,b Zheng Shi,b Glyn Cooper,a Yenyou Jeff Zheng,a
a Department of Chemistry, University of British Columbia, Vancouver, BC V6T 1W5, Canada.
b Department of Chemistry, Simon Fraser University, Burnaby, BC V5A 1S6, Canada.
ABSTRACT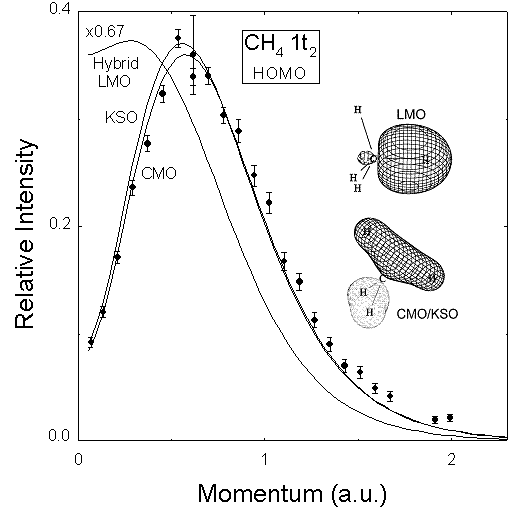 Observations of the physical behaviour (motions) of the valence (frontier) electrons in the iconic benchmark hydride molecules CH4, NH3, and H2O are used to provide a direct experimental evaluation of hybridization and of the localized and delocalized orbital models of molecular electronic structure, after more than 80 years since the initial proposals of these theoretical concepts. Our previously published experimental measurements of valence (frontier) electron momentum probability distributions, made by electron momentum spectroscopy (EMS), are compared with those calculated using the localized molecular orbital (LMO) model and a range of hybrid orbital models, as well as with the delocalized canonical molecular orbital (CMO) and density functional theory Kohn–Sham orbital (KSO) models. In all cases, the electron momentum probability distributions calculated with LMOs and localized hybrid orbital type models are inconsistent with the experimental observations. In contrast, those calculated with the delocalized CMOs and KSOs are in very good agreement with the experimental measurements. These findings are of importance in those research applications such as reactivity, drug and novel material design, and also in molecular electronics, where the shapes and orientations of particular valence (frontier) orbital electron density probability distributions (and not the total electron densities) are considered to be key determining factors. These findings and their implications are also of pedagogical significance in chemistry and molecular physics.
(b) High resolution electron energy loss spectra of valence and inner shell electrons in molecules. This covers energy transfer in the range 10-1000 eV (equivalent wavelengths 1240-12 Å), spanning the UV and soft X-ray regions.
(c) Photoionization, photoabsorption, and ionic photofragmentation of molecules in the 10-400 eV (1240-31Å) region. These studies are made using the virtual photon field of a fast electron and yield quantitative results (i.e. total and partial absolute oscillator strengths (cross-sections)) entirely equivalent to those which could be obtained with synchrotron radiatio n. Coincidence techniques are used with electron energy loss spectroscopy to give simulations of photoionization mass spectrometry (e,e+ion) and photoabsorption (e,e) at continuously tuneable energies. The dipole-induced breakdown pattern of molecules is elucidated. Synchrotron radiation is also used.
Curriculum Vitae
B.Sc., Bristol (1958); Ph.D., Bristol (W.J. Dunning, 1961); Postdoctoral, British Columbia (D.C. Frost and C.A. McDowell, 1961-64); NRC Senior Research Fellowship 1969-70; Noranda Award, Chemical Institute of Canada 1977; John Simon Guggenheim Memorial Fellowship 1978-79; Jacob Biely Faculty Research Prize, UBC 1983; Herzberg Award, Spectroscopy Society of Canada 1983; Canada Council Killam Research Fellow 1984-86; Killam Research Prize UBC 1987; Killam Senior Fellowship 1990; John Polanyi Award in Chemical Physics, Canadian Society for Chemistry 1993; Fellow, Chemical Institute of Canada; Fellow, The Royal Society of Canada; National Centres of Excellence (CEMAID) Participant 1990-94; Peter Wall Institute for Advanced Studies Major Thematic Award (Understanding Electron Motion in Matter) 1997-2000; CIC Medal, Canadian Society for Chemistry 2002.
Publications
2017
2005
2002
2001
2000
1999
1998
1997
1996
1995
1994
1993
1992
1991
1990
1989
1988
1987
1986
1985
1984
1983
1982
1981
1980
1979
1978
1977
1976
1975
1974
1973
1972
1971
1970
1969
1968
1966
1965
1964
1963