Profile
Research and Teaching Interests
The processing of semiconductors for the microelectronic industry remains an example of a discipline for which technology is leading science. There is a growing demand by the industry for processes which can yield components which are smaller, more densely packed and capable of greater electronic speed. The critical processes which limit development in this area are fine line anisotropic etching and the passivation of surfaces and interfaces. In response to these needs several processes which could be important to future developments in this technology are being studied. These include: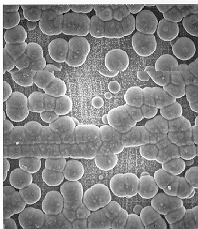 (a) the laser enhanced etching of gallium arsenide and silicon with chlorine, bromine and iodine molecules and atoms. These are seen as possible anisotropic etching techniques which avoid the component damage which is characteristic of current plasma-based techniques.
(b) the oxidation of silicon by atomic oxygen to form "gate oxides".
(c) the use of photoluminescence to monitor the passivation of III-V semiconductor surfaces and interfaces, and laser induced photconductivity to monitor the passivation level of silicon/silica interfaces.
(d) the processing and characterization of SiGex thin films for high-speed MOSFETs.
A diamond film deposited on silicon with a microwave discharge in a 1 torr methane/H2 mixture and a temperature of 800°C.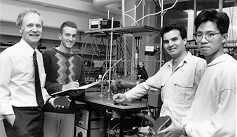 Curriculum Vitae
B.Sc., University of Manitoba(1955); M.Sc. University of Manitoba (L,B.Funt, 1956) Ph.D., McGill University (H.I.Schiff, 1958); Postdoctoral, Scheffield University (Sir George Porter, 1958-59).
Publications
2000
1996
1995
1994
1993
1992
1991
1990
1988
1986
1984
1983
1982
1981
1980
1979
1977
1976
1975
1974
1969