Congratulations to Dr. Mark MacLachlan, he has been awarded the 2014 Steacie Prize in the natural sciences, Canada's top award for young scientists and engineers. The award recognizes MacLachlan's outstanding research and scholarly contributions to the field of supramolecular inorganic chemistry.
"I'm honoured to receive the prize – I can only surmise there were no other nominees! I owe this award to the outstanding current and past students, post-docs, and collaborators I've been fortunate to work with," MacLachlan said.
MacLachlan, a UBC Chemistry alumnus, went on to obtain a PhD in inorganic materials chemistry at the University of Toronto and completed a postdoctoral fellowship in organic materials chemistry at M.I.T. He joined the UBC Faculty of Science in 2001.
MacLachlan has developed a new iridescent film made of silica that mimics the structure and properties of beetle shells, which could be used to coat glasses or windows and protect against harmful ultraviolet or infrared light. MacLachlan's other discoveries have generated materials that show promise as electrodes for supercapacitors—new high-energy storage devices that may replace car batteries—and as alternative ways to safely store hydrogen for possible use in hydrogen-powered vehicles.
The Steacie Prize is a $10,000 Canadian award presented to a scientist or engineer of 40 years of age or less for outstanding scientific work. The winner is selected by a panel appointed by the E.W.R. Steacie Memorial Fund, a private foundation dedicated to the advancement of science and engineering in Canada.
See list of previous recipients: http://www.steacieprize.ca/recipients_e.html
Source: http://science.ubc.ca/news/ubc-chemist-named-top-young-canadian-scientist-0
—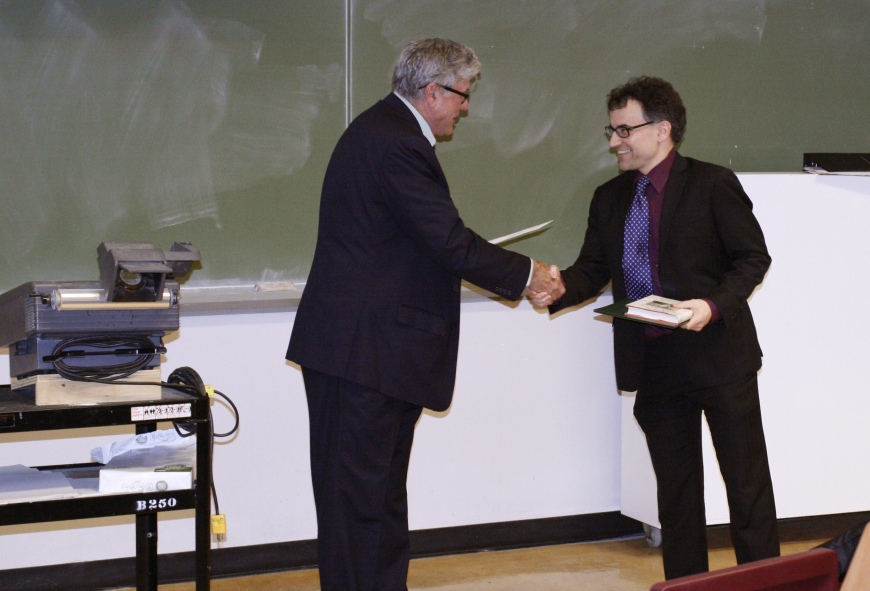 Dr. Mark MacLachlan is seen here with Dr. Lawrence Mysak, Professor Emeritus from McGill University and Chair of the Steacie Prize Committee, officially being awarded the prestigious Steacie Prize at the Chemistry Department Celebration of Excellence in Research and Teaching.