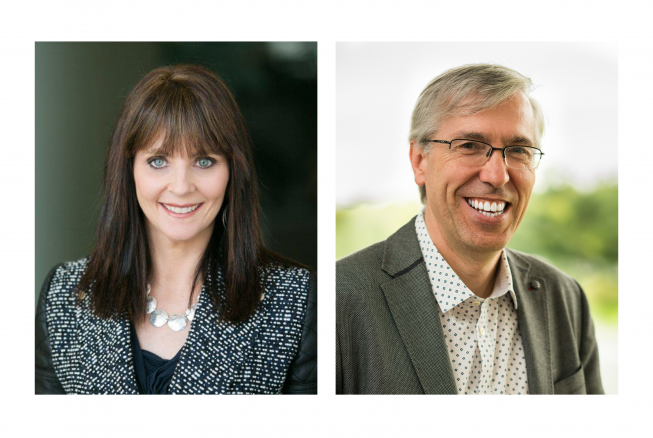 Sandra Morris and Richard Tillyer met each other during their PhD programs in the Chemistry Department at UBC. They graduated in 1991, completed their postdocs in the UK, married, and eventually moved to New Jersey in the United States. In 2017, they established the Sandra Morris and Richard Tillyer Scholarship for UBC Chemistry students. In lieu of current travel restrictions, we had the privilege of chatting with them virtually about their experience at UBC and chemistry career path.
Q: How did you first become interested in chemistry?
Sandra: I had always been interested in science, but in my first year at UBC, I took classes in different subjects to see what I liked best and it turned out to be chemistry. Dr. Michael Gerry's energetic classes were a deciding factor.
Richard: In the UK, I was taking four subjects in high school: history, biology, chemistry, and maths. History was the one I was most interested in, but I got a new chemistry teacher who got me more interested in chemistry.
Q: What made you decide to apply and attend UBC Chemistry?
Sandra: I started my undergraduate degree at UBC because I grew up in Vancouver and had a scholarship. I accepted my PhD position at UBC because I wasn't ready to leave Vancouver at that point—I'm glad I stayed since I wouldn't have met Rich if I hadn't! 
Richard: I was in the UK and thinking of going to graduate school. UBC was paying for a teaching assistantship, so I thought I could go study and earn some money at the same time. I also liked the look of the mountains and I liked to ski, so I thought "I'm getting paid to ski."  
Q: Tell us about your UBC experience. What was most memorable about your time? What did you find was most influential to your success?
Sandra: I loved the people I worked with in my lab. I still have close ties and friendships with those folks. The professors and the science were top-notch. I had a lot of support from the professors.
Richard: I worked in the lab a lot and met friends during that time that are still my closest friends today. My PhD supervisor, Ed Piers, was also fantastic and the team of scientists that he had was spectacular. They're all in excellent academia and industry jobs now. That was foundational for me, because with a PhD from Ed, it pretty much opened doors afterward.
Q: What did you value most about your degree from UBC Chemistry?
Sandra: The professors were teaching you to think for yourself and how to solve problems. Nothing was spoon-fed to you. I remember bringing in a problem to Ray and he would say "Well, what do you think?" It was a really good dynamic.
Richard: For me, it was the rigor of the science that we did under Ed Piers. He was always looking for explanations on why things behave in the way they do and why we see the results that we see. He was detailed, analytical, detail-oriented, and hypothesis driven. Those were the basics you needed to be a scientist. I can't deny the quality of science at UBC while I was there, and still is today. It was clear that everyone who went through UBC Chemistry did well after.
Q: Describe your current job and path you took to get there.
Richard: After our postdocs at Cambridge, we both accepted jobs at Merck in 1993. After 25 years there, and 19 for Sandra, we now both work at Johnson & Johnson.
Sandra: At Merck, I started off in Natural Products Chemistry, which is where I did my PhD work. Afterwards, I moved into project management, where my career has been built. When I left Merck, I was the Global Head of Project Management, Franchise Team Leader, and a member of the senior R&D decision making committees. An opportunity arose at Johnson & Johnson to work with somebody that I'd known at Merck to create an Enterprise Global Safety organization. I'm now the VP of Stategy for the J&J Chief Medical Officer —across pharmaceuticals, devices and consumer products.  My role is strategic, but my group and I also have oversight for bioethics, R&D policy, and understanding how Real World Data can be used in clinical development. It's a bit divergent, but I would say that my chemistry background has helped me interact with the clinicians and scientist working on R&D development projects. The problem solving I learned long ago at UBC has been helpful all through my career!
Richard: I started at Merck in Process Chemistry and quickly worked my way up to head that organization. After that, I became the Global Head of Preclinical Sciences, which included Process Chemistry, Formulation Science, DMPK and Pharmacology / Safety and following the Merck merger with Schering-Plough, I was asked to design and become the Head of a new Integrated Discovery / Preclinical Sciences organization for the combined companies. Because I had a breadth of experience in both preclinical sciences, CMC and development, J&J offered me an opportunity to build and lead an integrated preclinical/chemistry/biologics organization for Janssen in 2018. Unlike Merck, Janssen brings much of their innovation in-house from other companies and then converts these external acquisitions into marketable products. At Merck, most of the product innovation and subsequent development was done in house.
Q: How did UBC Chemistry and experience prepare you for where you are today?
Sandra: For me, it was foundational. It was learning to think and developing as a person.
Richard: I think it was a great environment to learn. The labs were always full. You always felt like things were happening there. It's nice to be in the middle of that.
Sandra: We can't forget the fact that it was in such a lovely setting. When you needed downtime, you were in Vancouver, with all its beauty and outdoor activities.
Q: Was there a faculty member, course, or experience that influenced you while at UBC? How?
Sandra: The first person that really influenced me was Michael Gerry, my first year chemistry professor. He did these dynamic experiments that he wouldn't be allowed to do today, but we loved them! He was so energetic and such a motivational teacher. I then got a liking for research by working in the labs of Anthony Merer and Steve Withers during the summers. Steve put me in contact with Ray Anderson, who later became my PhD supervisor. There were so many memorable people who helped guide me during my time at UBC—Larry Weiler, Ed Piers, Tom Money. All were amazing teachers and friends during those years, open to giving advice and helping you out with your future.
Q: What advice do you have for students interested in Chemistry?
Richard: Be persistent, get good results, and enjoy it while you're there. Maximize what you get out of UBC. The big jump is going into research. You might be part of a group, but you have to generate results. When you're coming to industry, it's a team sport. You have to be able to work with a lot of people who will be relying on you. I would advise folks to be a team player and communicate.
Sandra: My advice to folks going into chemistry is that it is a foundational science. There are so many different career opportunities that open up to you if you know that foundational science, even if you don't continue on as a chemist. If you continue in a graduate program in a subject like chemistry, you've not only learned to be a chemist, but you've also learned how to think strategically and solve problems.
Richard: Chemists tend to go into many other things. You don't see a lot of other disciplines where you get such diverse opportunities. When I think of the people I have met in industry during my career, it is often those that have trained first as chemists that are in key team leader and medical positions.
Q: What inspired you to create the Sandra Morris and Richard Tillyer Scholarship in Chemistry UBC Chemistry?
Sandra: I think one of the things that we have noticed is that hiring a really good chemist is not easy. There are few people that train in it and there are a lot of other career opportunities that they go into. We want to encourage people to continue to pursue chemistry. For us it's important to keep that pipeline of young students coming out and doing it in a place that is a great learning environment.
Q: Why is it important for others to give?
Sandra: What we want to do as we enter our next phases in life is to give back to those that have helped us on our way. The UBC Chemistry Department was one of those foundational places in our lives. The financial obligations of going through school and living expenses back then weren't as onerous as they are now. If you can help a student, take that step. I think it's very important.
Richard: We have benefitted so much from the advice and support of others.  We now find ourselves in a position to be able to give back and help others, so we can't think of a better way to do that than supporting young scientists.  It is expensive and difficult for many to go through school; both Sandra and I believe that science will continue to drive advancement in our society, so we are really happy to be in a position to help others find their path to helping with the advancement.