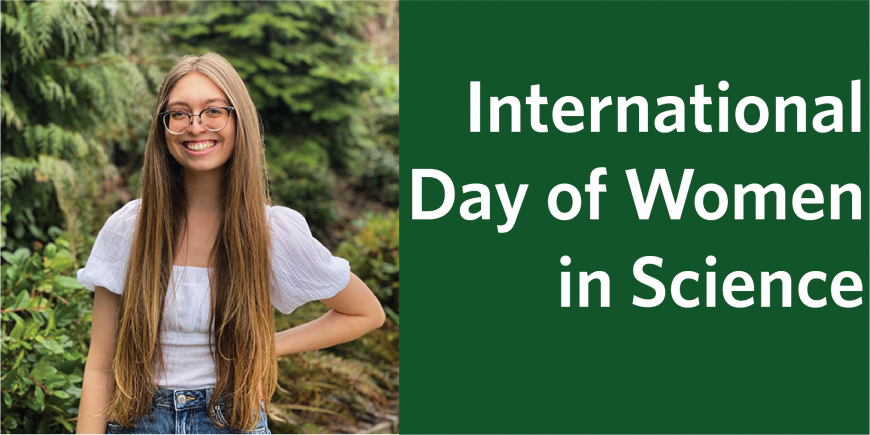 Katrina Bergmann is a second-year PhD student in the Department of Chemistry at the University of British Columbia, where she conducts research at the interface of computational, physical, and materials chemistry. Katrina is a 2022 Vanier Scholar and Killam Laureate, having been awarded the most prestigious scholarships offered by the Federal Government of Canada and UBC, respectively. She completed her BSc (Hon) in 2021 at the University of Manitoba, where she worked with Dr. Jennifer van Wijngaarden, Dr. Scott Kroeker, and Dr. Rebecca Davis, and won the Governor General Silver Medal for graduating with the highest academic standing across all faculties. She is currently completing her PhD in Dr. Zachary Hudson's group, where she studies the in silico design of advanced optoelectronic materials (and hangs out with Zac's dog, Wesley).
Q. How did your peers (friends, family, etc.) react to you pursuing a career in science?
My immediate family and the majority of my friends have been nothing but supportive. Career success for me has always meant career enjoyment, likely because my dad's love for his own career is unparalleled, so the fact that I truly enjoy my work would earn my parents' support regardless of the career I was pursuing.
However, I was raised in rural Manitoba and grew up surrounded by a very religious community. Almost none of my female friends from church have chosen to pursue a post-secondary education, and very few women older than me in that community have university degrees. Although I don't believe that any women in the church hold negative feelings towards my career choice, university is simply not a consideration for many young women in that community, and my decision to pursue scientific research has always felt out of place there.
Q. Did a woman in a leadership or mentorship role contribute to an important part of your career path/choice? How has this influenced your research/life?
Absolutely. I began undergrad with exceptionally poor self-confidence, but my very first chemistry professor, Dr. Elena Smirnova (retiree, University of Manitoba), consistently went out of her way to encourage me and tell me that she was proud of my accomplishments. She made it very clear that she believed I was capable of a career in chemistry, even though it was not something I had considered prior to entering university.
Another woman who was crucial in my decision to pursue chemistry was actually my first-year physics lab partner, Miky Lisogorsky (MSc, University of Toronto), who was a third-year chemistry major at the time. She's the reason I applied for summer research awards during my second year, and without her encouragement, I wouldn't have taken the risk because, for several reasons, I didn't believe I was capable. I never want to discount the significant positive influence that certain men have had on my career progress, but comments made by a few male professors during my second year of undergrad had severe negative impacts on my self-confidence. This includes that they believed I was (in lieu of the actual word used) intellectually disabled, or that I shouldn't be optimistic about winning a summer research award because those were "normally only for top students". Although I'll never know the extent to which my gender played a role in their negative perception of me, these experiences made female mentorship in the early years of my undergrad especially valuable.
I'm particularly thankful for the opportunity I had to work for Dr. Jennifer van Wijngaarden (Professor & Department Chair, York University) with my first NSERC USRA, and Dr. Rebecca Davis (Associate Professor, University of Manitoba) with my third, both of whom I published first-author papers with. These women consistently pushed me out of my comfort zone during my degree, whether it be in my research or in volunteering with the EDI group they cofounded. If it were not for these women encouraging me to do things I thought I could not do, I seriously doubt I would be in grad school right now.
Q. Have you noticed any positive improvements to these obstacles and barriers for women over the years?
Overall, yes. In recent years there has been a huge increase in the number of women pursuing undergraduate degrees in science, and that is going to continue to increase the number of women in grad school, and eventually, in faculty positions.
That being said, there's still a lot of work that needs to be done, especially with respect to improving the perception, including self-perception, of women. Relative to men, there's a general tendency for women to underestimate their abilities and performance. Although realism is good – it's an important skill as a scientist to know where your deficiencies lie – I think many women have lower self-confidence than they should with respect to their skill set. On the other hand, when women gain self-confidence and become assertive and ambitious, they are often viewed negatively by others. So, although there are fewer physical barriers than there used to be, double standards like these are still prevalent and certainly impact women's ability to obtain leadership positions.
Q. What is your advice to aspiring young women researchers?
Always be willing to try new things! To be successful as a researcher, confidence is almost as important as competence, but it can be easy to fall victim to perfectionistic tendencies that prevent you from realizing your full potential. It's important to take risks when it comes to taking on projects you might not feel completely ready for, but additionally, it's helpful to find mentors and role models who accurately recognize your abilities and potential. Look for mentors who not only encourage you to take on difficult projects but are willing to support you through them and celebrate and promote your accomplishments.
Q. Why do you love being a scientist? What's the most amazing thing about being a scientist?
I've always been the type of person to ask a lot of questions, and as a scientist, I am lucky to have a career where it is not only acceptable but appreciated for me to question everything. It's so cool that I get paid to think critically about questions that are both interesting to me and relevant to changing the world for the better. My favourite part of my job is discovering new questions when I'm in the process of attempting to solve a different one; this either expands the scope of my project or can create completely new projects for me to work on. In some ways, it's frustrating knowing I'll never run out of questions I want to answer, but this career gives me the ability to pursue the most consequential and fascinating ones. I can't think of a job I'd enjoy more.
Katrina with her research group