Profile
Research and Teaching Interests
It is known that grafted polymer chains have a strong effect on the interaction of surfaces with blood and biological fluids. Our approach to developing biocompatible surfaces is to synthesize relatively large, surfactant-free solid polymer latex beads based on polystyrene and provide them with a reactive copolymer shell to allow grafting of acrylate-based monomers and co-monomers. These provide model, polymer-bearing surfaces which are then evaluated via biocompatibility reactions with proteins and cells. By assaying the number of reacted surface groups and the amount of monomer incorporated the molecular weights of the grafts are determined. The surfaces are then characterized by traditional (NMR), surface chemical (XPS) and non-traditional approaches (particle electrophoresis; contact angles in phase separated aqueous two phase mixtures) to provide unique descriptions of the grafted chain phase and its effects on biocompatibility. The grafted beads are further evaluated as high resolution chromatographic media by packing them in HPLC columns and measuring plate heights and partit ion coefficients for biomolecules, the latter parameter providing a further characterization of the grafted layer.
The grafted surfaces are also being used to develop a thermodynamic method for measuring the accessibility of various locations in the grafted layer to dissolved macromolecules as a tool to be applied to cell surface structure definition. The particles are further used in studies of the colloidal stability of suspensions and the effects of grafted chain composition on depletion or bridging destabilization induced by dissolved macromolecules.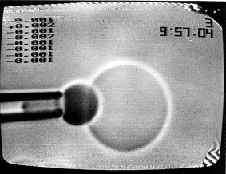 Work on macromolecular stabilizing agents for cells via adsorption of copolymers to cell surfaces, is being extended towards development of disaggregation agents for whole blood. The effects of such agents on the rheological behaviour of blood from diabetes, stroke and heart attack patients is being studied out as a possible treatment for the abnormally high red cell aggregation known to be a risk fact or in these patients.
A significant enhancement in sensitivity to cell surface properties is being sought in work on the development of cell isolation procedures utilizing partition in phase separated two polymer solutions. The separations depend on the surface free energy of cells in the phases and on a stochastic factor that is likely associated with the gravity-driven flows present during phase separation. To circumvent these effects we are synthesizing copolymers with which to make equal density phases to allow experiments of the type we performed previously on the Space Shuttle.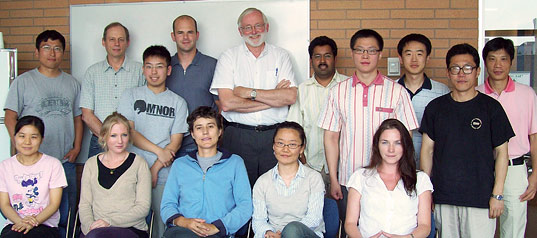 Curriculum Vitae
B.Sc., British Columbia (1964); M.Sc., British Columbia (C.P.S. Taylor, 1967); Ph.D., Oregon (G.V.F. Seaman, 1971); Postdoctoral, Weizmann Institute (A. Silberberg, 1971-72) and Cambridge (D.A. Haydon, 1972-74).
Publications
2009
2008
2007
2006
2005
2004
2003
2002
2000
1999
1998
1996
1995
1994
1992
1991
1990
1989
1988
1987
1986
1985
1984
1983
1982
1981
1980
1979